This post may contain affiliate links. Read policy.
I came across to one idea that can pay you on your spare time. Yes! It's true.
We get a lot of spare time in 24 hours. Simply answering a survey can add a few bucks to your account for your daily expenses.
Income from survey is very popular because it doesn't require professional skills.
It's a great idea to work from home or outside and make money online from survey.
There are 1000's of big companies who are investing huge money to understand the user experience. They conduct a survey to get the direct opinion.
Can You Do a Full time Earning Answering Surveys?
Yes, but it's not recommendable. I do not want to put anyboday in dark. I believe it's best for a part time earning.
You can earn few bucks or vouchers for your shopping on each survey you submit
1. Survey Junkie
Survey Junkie is the reputed company who pays on submitting surveys. 
The survey can be answered anywhere or anytime even though you are listening to music or relaxing anywhere. If you get some spare time, start filling out survey on Survey Junkie.
Make use of your spare time and fill your bank account with money. Simple!
You can make around $1 to $15 in 20 minutes survey.
A qualified participant earns more. They usually get paid between $5 to $15 or more per survey.
This is because, many companies wanted to know the opinion from experts to evolve their market research and build brand.
Working for few hours on surveys for cash and pay your bills is not a bad idea. Grab the opportunity and live your life without any financial problem.
They will only send you the surveys which is relevant to your profile. So, it's very important to have a complete profile that enables them to send you the surveys that you can answer easily.
The main aim of Survey Junkie is to know how customer think and buy a product. This will help them to implement advance marketing strategies.
They want to know the opinion of a regular consumer like us, to help them decide whether the product is worth buying or not.
Participate on a focus group where you think that you can easily fill out the survey easily without wasting your time.
Your opinion will also help them to improve their product which will increase the sale and with profits.
You will going to earn points that is convertible into money or voucher. 1000 points is the minimum eligible mark to redeem which is equals to $10.
It is very simple! Just signup and check your emails every day on your spare time. Click on the survey and start making money.
Sign Up Here For Survey Junkie.
2. Swagbucks
Swagbucks shouldbe the first survey company to start earning money. It is internationally well known company who help people to make money online.
This is one of the best online work from home survey platform for the one who wants to earn serious money.
You can earn around $500 to $1000 if you make full use of your spare time. The best time to get paid for surveys is while travelling and vacation.
Swagbucks has paid more than $100 million to its members. You can also earn by watching videos, searching on web, shopping, playing games and many other things that you do daily.
Signup Here for Swagbucks and Start Making Money.
You will receive a SB points that you can redeem it in the form of money or gift cards. It means you can do shopping when you collect "SB points".
SB point can also be converted to cash and get transferred to your PayPal account.
It will become easier for you to collect point, because you are not only earning from Surveys, but also from watching videos, searching on web, playing games etc.
This will help you gain more points every time you use Swagbucks smartly.
You can use Swagbucks  on your computer as well as on your cell phone. Add Swagbutton browser extension to get quick access.
If you use swagbucks for shopping, you will receive a good SB points that will add up to your SB account.
I would highly recommend this survey platform to earn as much money as you can. This company don't do spamming. They keeps everything transparent.
Take advantage of your spare time and convert it to money, because time is money and it should be utilize in a smart way.
Swagbucks is very simple and user-friendly platform.
You can also share this with your friends and colleagues, so that they will also take advantage and thank you.
With the help of Swagbucks, anyone can fight with financial problem and enjoy their life happily.
Signup Here for Swagbucks and Start Making Money.
3. Harris Poll Online
Harris Poll Online is the company who provides the survey from big brands. They give the opportunity to earn high points.
It is one of the oldest, most prestigious and legit survey site in the world.
You will get good number of surveys of top companies who need your genuine review on their product and services.
You can also give your own opinion and that is what they want from you. They will appreciate this and will reward you with good points.
Sign up for Harris Poll Online Survey.
4. Point Club
Point Club also comes under my recommendation. They are one of the best paid online survey business.
You will be rewarded in points for each survey you complete. They also come up with others opportunities to assist you in earning points.
The points can be redeemed for cash or a gift card. It's up to you.
The reward points vary depending upon the length of the survey. A single survey can pay you from 200 to 2000 points, where 1000 points is equal to $1.00 US.
Always give an honest response. If you continuously giving an honest response to surveys, you will gain a trust from Point Club and this will help you to get more surveys.
You will get $5 signup bonus when you register yourself on Point Club. Make sure that you provide relevant information, so that Point Club send you the relevant paid surveys.
It's free to join like other well-known survey sites. They do not ask for credit card information nor ask you to buy anything. It's your decision.
They also offer points on completing your profile.
A statement by Point Club, "Be Honest! Yea, it seems redundant to say it, but it is the most important thing you can do on point club. Your honesty is the key to your receiving surveys you have a good chance at completing and helping us decide who to send the best surveys to."
If you are a student or housewife, it doesn't matter. Anyone can register and start earning money from survey.
5. MySurvey
MySurvey is also the popular survey website who provides good points to fill survey. The points can easily be converted to Money, Gift card, Vouchers, e-certificates, and many more.
You can transfer the money to your PayPal account, if you do not want vouchers. It's up to you.
Rewards such as vouchers, points, sweepstake entries, may vary according to region.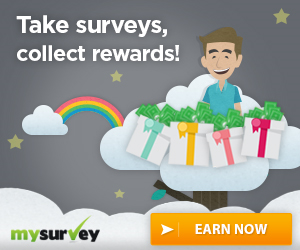 They will see your profile and send you the most relevant survey that you can answer easily. So, mention your education, interest and knowledge/experience, when you create your profile.
You can also earn rewards when you voice your opinion. This is one of the best option that MySurvey gives to its members.
Registration takes few minutes. Once registration is done, you will start receiving online paid surveys. It can be answered via phone, Desktop, Tablet and app.
Types of survey you may receive.
Restaurants, Automotive, Media, Leisure and Personal, B2B, Tourism, Accessories, Electronics, Social, Media, Food etc.
You need to select the type of survey that you can easily answer by updating your profile precisely.
Once the profile is updated, you will start receiving survey on your MySurvey account and you will also receive an email notification on the registered email ID.
Signup Here for MySurvey within 1 Minute.
6. Global Test Market
Global Test Market is one of the largest online survey company.
You will be rewarded through Amazon gift card, Cash (Paypal), Macy's, Kohl's and charity Donation (UNICEF). The decision is yours.
They will ask some questions about you and your household. The reason is, they want to know which paid surveys are relevant to you. The more relevant surveys you receive, the more quickly you will be able to fill up the Survey.
It takes around 15 minutes to complete a survey that can give around $2 to $5 on an average per survey. There are no professional skills required. It's just a paid online survey for money.
Global Test Market is one of the fastest way to make money from survey. This is because; the company removed the hassle for more convenience to its members.

If you receive the irrelevant survey in future, then check your profile to find any irrelevant information you have mentioned by mistake. Update it to receive relevant surveys.
It is very easy to become a member. You just need to click on signup, fill the registration form and then you will receive an email for validation. Done!
Global Test Market will ask you some questions to know which surveys are relevant to you.
Signup Here for Global Test Market in 1 Minute.
Is Online Survey Legit?
Yes, online survey is legit, but you need to be very careful when you join any survey companies.
There are many survey companies who do not pay properly or do scam.
In my opinion, you should see how many positive reviews that company has before you sign up with any survey companies.
You won't become millionaire answering survey but will earn handsome money in your spare time. It's not recommendable for a full time earning.
Important Things you should do.
Give honest answer to the survey questions and build your repo. This will help you to get more work from survey companies.
The survey you will receive based on your profile, so make sure that you complete your profile. This will enable Survey Company to send you the relevant surveys.
The advantage is that, the relevant surveys will make you to submit the survey faster. So, more survey you submit, the more income you generate.
You just need to have an internet connection, signup with some survey companies and done.
Do not mention any irrelevant information into your profile; otherwise you will start receiving irrelevant survey questionnaire which may get difficult for you to answer. This is not preferable.
Sign up for Harris Poll Online Survey.
If you have an extra time to work on surveys, it's better if you sign up with the survey companies that I have mentioned in this article.
Some survey companies do give extra money to its member who has some extra knowledge and experience in particular field. They get paid extra on their opinion. You can also benefit yourself if you mention about your past experience.
My personal advice for you is to start with Swagbucks, because you will not only earn from filling out survey, but also from many other thing like surfing internet, watching online videos, playing games, shopping and many more.
Let me give you an idea how to make money from surveys.
You need to think which time in your daily routine that you can make use of it to fill surveys.
It can be by travelling for work and coming back to home, lunch time, any break time, some spare time at home and few minutes before sleep.
If you are a student, housewife, jobless or want to do some after shift, then go for it!
Once you meet the minimum age criteria, you become eligible to earn online from surveys.
Sign up for Swagbucks and Start Making Money.
You will find hundreds of opportunities to make money from online surveys. Why don't you make use of it?
Get registered with few online surveys companies and give your full focus on them. Do not try register with end numbers survey companies, otherwise you will mess-up everything.
I would advise you to sign up with first 4 survey sites that you will see below and start making money. Believe me; you will get lots of paid online surveys and many other opportunities to earn money.
You can also earn to work online from home more than $1000 every month by filling surveys, and this can be possible if you give some of your time on holidays. You must enjoy your weekly holiday, but keep some good hours for side income as well.
Try to fill more surveys as you can to build your repo. Plan your time and work accordingly.
If you are a beginner, it's must for you to understand how it works. First, explore the website, visit each and every components/categories of survey website.
Sign up for Survey Junkie and Start Making Money.
Must Read:
Founder of twomillionways.com
MBA – London
I am here to share my ideas and experience on how to make real money.