Currently, there are tons of people who are actively looking for the best of all financial advisors. Yes, people have become busy in their lives and if they can get a virtual financial advisor, Blooom can be a better option for you. Taking this a notch higher, I have got for you an exclusive Blooom review for 2020. 
Yes, with the coming of different investment apps such as Acorns, Personal Capital, Stash, and Robinhood, the 401K along with IRA app was bound to come into reality. 
Right away, you can enter Blooom where you will find it as one of the most efficient tools for managing wealth along with 401k retirement plans. 
Speaking about the CEO of Blooom, Chris Costello has poured his heart out to make this app. Indeed, the app comes with some of the best retirement and wealth management features that you will love to the core. 
Therefore, let's go ahead and unwrap an exclusive Blooom review for 2020 and beyond. 
Blooom review 2020
Blooom is an app that exists before there are very few people of age 50 or even younger that will receive any pension in retirement. With this, you can be lost in vain during your retirement. 
Therefore, to tackle such things, the good 401k plan has become a necessity for millions of Americans. 
Further, there is sort of a rare chance that people will win the lottery or sell their business for millions of dollars. 
There will be a vast number of people who will invest their money into different sorts of retirement funds. 
Currently, around 80 million Americans need some sort of financial help. However, those people are not qualified in the traditional model where they don't know about the Blooom app. 
Hence, let's start off this article with Blooom and then go ahead to discover some more essential things. 
What is Blooom?
Basically, whenever you think about the 401K, IRA, Bonds, or even stocks, you can become confused instantly. Yes, the staff can appear to be pretty much complicated but if you can analyze each thing individually, you can be able to understand each of them.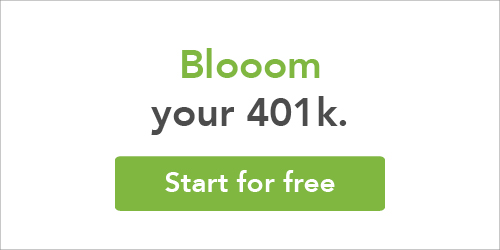 That is where the Blooom app comes into play where you can effectively manage your 401k account along with IRA. 
Yes, speaking about the birth of Blooom, it was founded back in the year 2013 and since then, it has turned out to be a powerful company. 
For almost every single American, the Blooom app has proven to be a boon where they can manage their finances, the easiest way. 
Further, as per the founders of Blooom, they have managed money along with investments for Uber-wealthy for several years. 
On top of that, you must note that the Blooom app is independent where they put their customers in the first place. 
Additionally, you must note that the Blooom app isn't associated with any sorts of massive banks or financial institutions. Therefore, for them, customers are on the number one priority which is a good thing. 
Further, the Blooom app knows that you don't know every sort of stuff related to finance. Also, the app doesn't offer you confusing information that can make you feel confused in the long run. 
The app especially tells detailing about your 401k account and that's it. 
Why is Blooom different?
Well, moving ahead in this Blooom review, Blooom is different because it is not an active participant in the financial industry. 
The company speaks for themselves as rebels and I personally liked this thing to the core extents and guide you how to save money for your future. 
Blooom is an app that began because people found it difficult to manage their 401k finances. Plus, people were neglected by other financial institutions and all they were left was to seek the help of Blooom. 
Additionally, Blooom app created technologies that can help people to take control of their retirement. 
Further, the company has been working hard enough to change the active financial culture. 
Blooom Review: How Blooom works?
Well, to begin the entire working of the Blooom app, you will first have to answer a few questions asked by the Blooom app. 
Such questions will be related to your Free IRA along with a 401K account after which you will understand the working of the Blooom app. 
Moving ahead in this Blooom review, once they have taken all your questions, the app makes use of AI to offer you proper investment strategies for your account. 
On top of that, when you link your 401k and IRA accounts with Blooom, the company's AI algorithm searches for the very best investment strategies and plans for you. 
As per the company's website, they help in making those messy funds and confusing investment strategies easier to understand. 
Next up, they also give you an in-depth overview of the app for free of cost. Yes, this is one of the best things for any person where you can gradually see how the company works. 
Also, you can see different strategies and use those to build a proper and effective retirement fund. 
A Take on Pricing
After the initial assessment of Blooom and going ahead in this Blooom review, let's take a glance at the pricing section. 
Indeed for any person who is willing to choose any financial plans, pricing has always been a key factor. 
Coming at the pricing of Blooom, they offer services in three sections. First of all, comes the essential service where the cost starts from $95 per account each year. Such sort of thing includes a personalized portfolio where you will get to know to optimize your accounts. 
Further, if you are willing for the company to optimize your accounts, you can then move towards the Unlimited or standard tiers. 
The standard tier pricing comes at $120 per account each year where you can opt for the unlimited tear at $250 each year. 
This is surely one of the best and decent pricing you can ever find in the entire online financial market. 
With this, if you are someone who has got three accounts, you can easily opt for the Unlimited tier. Along with this, you will get access to tons of features and benefits. 
Further, along with such updates, you can be sure that your money is in the right hands. 
On top of that, Blooom as a company doesn't believe in false pricing. Yes, there is no sort of hidden costs and no penalties are associated with any of the plans. 
All that you will get is simpler investment management which you will understand gradually. 
Plus going forward in this Blooom review, you can be sure of the Blooom platform from where you will get some really good retirement strategies. 
How much exactly do Blooom costs?
Well, initially, Blooom analysis of the IRA, 401k, 457, or another such type of accounts is free of cost. Here, anyone can open their Blooom account where no sort of hidden fee is associated with the same. 
Right after that, you are eligible to choose your $108 annual fee. Plus, you will have to pay $891 for your additional account. 
On the other hand, if you are willing to pay every quarter, the fee is set to be $30 on a per quarter basis. 
In terms of a yearly basis, the above fee calculation comes out to be $120 on an annual basis. 
Additionally, Blooom 401k, IRA, or other services include:
Great technology driven by top-class financial advisors

The company places trades that effectively match goals

It helps you to make the right tactical moves

The account changes as and when the market changes

Account monitoring
Now, moving ahead in this Blooom review, this sort of service is perfect for people who don't want to destroy their finances. 
With the help of Blooom, there is no need to worry about the trades continuously. Yes, if your 401k account is doing it's best, there is no need to worry about anything else. 
Blooom Review: Blooom is best for you If?
If you find it difficult to manage your IRA and 401K, Blooom is for you
Indeed, in today's world, we are all busy where we don't get time to do even the essential activities. Therefore, when it comes to managing your finances and retirement plans, things can get detrimental for you. 
Also, such sorts of activities demand spreadsheets along with a graph where tons of precision and accuracy is required. 
Alongside this, you will have to look at the market where the Blooom app does the best in this case for you. 
If you are someone who likes simplicity
Yes, one of the major things, why people have chosen Blooom, is because of it's extremely simple user interface. The platform is one of the simplest ones to use where you can easily monitor your accounts. 
Additionally, the platform also offers you different sorts of suggestions where you can take those ones to manage accounts. 
Now, here, you can start using their free accounts or even start off with the paid ones. Altogether, if you are not willing to spend hours being confused, Blooom is the perfect app for your rescue. 
Further, with additional guides and tips, you will surely not face many issues while using the Blooom app at any cost. 
If you are not a millionaire
Well, not everyone is a millionaire and if you are not the one, Blooom is an app that can do wonders for you. Regardless of your net worth, the app is specifically designed for Americans who are willing to look after their finances. 
Get started with Blooom
Now, to start off with Blooom, the process is a much easier one. There is no sort of hectic steps where you can go through the entire process as follows:
First of all, you begin by answering some questions about your personal details. This includes your name, DOB, and other essential ones. 

Secondly, you can go ahead and create your very own Blooom profile and you can choose your profile and password.

Now, after you have completed the sign-up process, then you will have to answer a few questions. 

Such questions will be about the IRA, 401K, and other sorts of similar ones. 

After this, your IRA, 401K, and other such accounts are securely linked to Blooom app without an issue. 
Blooom Review: Customer Service
Well, for any consumer customer service support is the most essential one for them. In the Blooom case, you can contact Blooom via email. Yes, the company has deployed an email where you can request your queries in that section. 
Being said that, I have personally tested their email and got a reply within four minutes. It was stunning where their email service is really super fast. 
Pros of Blooom
Yes, for the people who cannot invest money in different plans, the company offers free retirement account for the same. Such sort of account is most helpful and delivers valuable insights to people. 
Plus, with a free account, you can analyze your retirement funds along with other essential kinds of stuff. 
Well, Blooom is an app that integrates quite seamlessly with almost every single retirement service providers. With this, you will not find any issue in the signup process and using the entire app. 
Plus, in this Blooom review, you can first set up your free account which is also a breeze process. With this, you will get your free account analysis and you will know where you stand. 
Yes, if you are someone who is looking to get some discounts, Blooom is a company that offers the same too. Here, the company offers 108$ flat fee structure that is another good thing.  
With this, it doesn't matter how much money you have in your account where you have to pay the same flat fee. With this, you can save some good amount of money with Blooom, the best ever way to save money from your budget. . 
Cons of Blooom
Indeed, Blooom Company doesn't really offer any sort of phone support. Therefore, if you want to contact them, you must do the same via email support. 
Still, the company's email support is super-fast where you will get a reply within a short duration. However, from the customer's perspective, they must have given phone support for instant response. 
Blooom Review: FAQ
Q1. Does Blooom analyze IRA?
Well, the answer is Yes. The company analyzes the IRA since they have expanded their services. Such things include 401K, IRA, and tons of other services. 
With this, you don't need to go anywhere else with IRA where Blooom does offer a complete set of the financial package. 
Q2. Does the company offer a cancellation fee?
Yes, Blooom offers people to cancel their accounts at any point in time. After your account has been processed, you can cancel the same at any point in time. 
In case if you haven't used the account, you will get a refund, as early as possible. 
Q3. What if I have a 403(b) account?
Well, even if you have 403(b), there is no need to worry even for a second. The Blooom company has excelled in managing almost every sort of account. With this, they can manage 403(b) accounts without an issue. 
Q4. Can Blooom manage Roth 401(k)?
Moving ahead in this Blooom review, the company manages 401k accounts quite effectively. Therefore, if you have the traditional 401k account or any other employer-sponsored account, you don't have to worry even for a second. 
The company's advisors are available online where they can assist you in your financial goals. In case you have any questions related to your account, you can eventually ask them and seek their advice. 
Almost each of the company's advisors is great and skillful enough to answer people's questions, at any point in time. 
Q5. What if I have just started investing and my 401(K) account is empty?
Well, in this case, Blooom helps people overcome their difficulties without an issue. Yes, the company helps each consumer of the 401K account irrespective of the money they have in their account. 
With this, even if your account has got less than $25,000, still the company will help in managing your account, the best way 
In this case, you can choose on the amount of money you are willing to spend on different plans. After which, you can eventually go ahead and choose the plan that can suit your needs 
Q6. At what point it makes sense for using Blooom?
Going ahead in this Blooom review, a free Blooom account is simply the best to analyze your employer retirement account. 
Further, the paid account is good for people who are thinking to grow off their 401K account. Or else, if people are too busy that they cannot manage their accounts, Blooom is a service that can help them, the easiest way. 
The advisors in Blooom Company are skillful enough to manage your account and help you reap some of the best benefits. 
Also, you can even take recommendations from advisors and use those right into your account. 
With this, you don't have to worry every now and then about your 401K account. The company has got skillful people that can effectively help you and manage those accounts, on a much better scale. 
Conclusion: Blooom review
From a distance or observing closely, Blooom is an app that is a gem for every single people who are looking to manage finance. Yes, the app is power-packed with tons of valuable features that can help you to manage your 401K or other sorts of such accounts. 
Also, when it comes to retirement, people tend to panic. In this case, the Blooom platform will help you to effectively manage your retirement account. 
From their end, the company has got a team of some really good and talented advisors. Each one of those advisors is skillful enough to guide people and manage their account in the best way. 
Plus, Blooom even offers free account creation where you can simply analyze your account. After which, if you need some additional features, you can go ahead and choose the paid plan of Blooom. 
With an annual paid plan, you will get good discounts that will help you to manage accounts, much better. 
Altogether, right now as you have read the Blooom review, you must have got proper insights. 
From my end, I have tried my best to explain you everything, the simplest way. Now, you can go ahead, analyze Blooom, go for their free version and build your future finance, the best ever way.