This post may contain affiliate links. Read policy.
Can you Imagine, your spare change can make extra money for you?
Acorns invest your spare change in the high quality index stocks and make your investment portfolio to meet your financial goal.
"Acorns is trusted by their 4,000,000 registered members."
This is one of the best way to invest and make money without affecting your pocket.
Everyone must have had a piggy bank to save money, but here, you are investing rather than saving. 
Sign Up for Acorns and Get $5 Bonus.
How to Sign Up Acorns
The sign up process is very short and simple, as Acorns made it user friendly. It can be done on mobile Acorns app or a web browser.
You will be ask to fill up your email address and setup 4 digit password.
Once this done, you will need to link your bank checking account for round-ups spare money investment.
Any debit or credit card linked to your registered bank account can be used to take benefits from Round-up investment. Acorns encrypts and protects your information with high level security.
How Acorns Spare Change Investment Works?
Do you visit a shop and buy thing you want? Yes, right!
If suppose you bought something for $3.75 at any shop or online, Acorns will automatically round-up the amount to $4.00 and invest the difference $0.25 to your investment account.
You must be having expenses like coffee, travelling, clothes etc. Normally people do visit 3 times a day for buying things.
 In this case you are investing $0.75 a day which equals to $22.5 a month. This money is going to your investment account.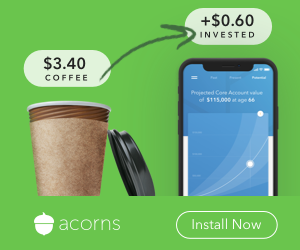 So, every time you purchase, small amount will get invested to your investment portfolio. Simple!
Here, you do not need to do anything by yourself. Acorns will do it for you.
📢
Get $5 Sign Up Bonus From Acorns.
Start With Small Amount And Get Financial Freedom In The Future.
Reasons to Join Acor

ns
Acorns will create your investment portfolio or give you an option to create portfolio on your own.
They invest your round-ups money to the high quality/dividend paying stocks. You can check your investment every day on Acorns App.
If you are good at saving or not good at it. Acorns benefits both type of people.
Saving money is better than investing money, especially when you have an option like Acorns that you may never find this type of investing options everywhere.
Acorns will invest in high quality stocks on behalf of you by financial experts. It is best for the one who wants to create their own passive income source.
You can start taking the benefits from Acorns spare money investment scheme when you link you debit or credit card to Acorns.
There are 4,000,000 people who joined Acorns to become financially stronger.
Sign Up for Acorns and Start Earning Money from Today Plus Get $5 Bonus.
Where Acorns Invest Your Money?
Acorns follows Modern Portfolio Theory for better income results.
They diversify your investment into different asset classes within the Exchange traded funds like stocks(large to small size companies), Real Estate, corporate & Government bonds and emerging market.
Diversified style of investment is followed by many great investor and they made a huge fortune in stock market. Acorns will do all these for you.
The father of Modern Portfolio Theory, Harry Markowitz is involved in creating the investment portfolio for Acorns members.
When you join Acorns, you will be asked to select portfolio out of five different sub-portfolios such as conservative, moderately conservative, moderate, moderately aggressive and aggressive.
See the portfolio segregation below.
| | | |
| --- | --- | --- |
| Portfolio | Stock % | Bond % |
| Conservative | 20 | 80 |
| Moderately Conservative | 40 | 60 |
| Moderate | 60 | 40 |
| Moderately Aggressive | 80 | 20 |
| Aggressive | 100 | 0 |
Each portfolio has its own weightage in stocks and bond.
High weightage on stock investment has high income, but high risk.
High weightage on Bond investment has high safety, but low income on investment.
Both has its own benefits. You need to select which one is best for you, or else leave it to Acorns. They will analyze your current status/profile and get you the right portfolio for your investment.
How to Create your portfolio for Round-up investment?
Acorns will ask you some basic question to understand your financial goal for future.
The questions can be related to your saving goals, age, income, time of retirement etc.
Based on the information, Acorns will recommend you the best portfolio that you should take to meet your goal.
You can also choose the portfolio by your own. It's up to you. But, I would advise you to select what Acorns recommend you. Later you can change your portfolio if you didn't like.
Acorns will also show you the diversification of your investment as per portfolio selected.
What's Next?
Once everything is done, you can check the performance of your portfolio during stock market working time.
Moreover, you will be able to see how much round-offs were contributed to your portfolio and how they are performing.
Additional Features You Must Know
There are other additional features that make Acorns all in one app. It will help you with money in different ways and you should be using it all the time.
Sign Up for Acorns and Start Earning Money from Today Plus Get $5 Bonus.
Found Money
Acorns has a partnership with many big brands who provides cash back directly to your linked bank with Acorns.
To get cash back on purchase on any items, simply open the app and select the retailer.
Retailers who partnered with Acorns and providing cash backs are Walmart, Airbnb, Apple, Nike, The Wall Street Journal and many more(big brands).
You will receive 1-2% of cash back from the retailers.
Sign Up for Acorns and Start Earning Money from Today Plus Get $5 Bonus.
Acorns Gift Card
You can give Acorns gift card to your friends or relative and make them aware of Acorns investing ideas.
Acorns is a very good platform to start investment journey in a unique and systematic way.
Acorns app should be there with the people who do not have time to spend more time to create their investment plans. A gift card by you can give them a chance to understand Acorns.
Acorns Round-Up Multiplier
If you like the round-up Acorns investment idea and want to invest more in it, then you can use multiplier option to boost your contribution.
In this option you can multiply the round-up contribution by 2X to 10X.
For example; if your round-up contribution goes to $0.25 and you want to invest double than actual round-up, then you can select 2X multiplier option and get $0.50 invested to your investment portfolio.
10X is the maximum limit to multiply your round-up contribution. You can also choose direct deposit, if you want to invest more.
Now it's up to you, how much you are ready to invest through Acorns and create your passive income from Acorns investment.
The more you invest, the faster your wealth will generate. This ideas is good for reach your financial freedom and stability.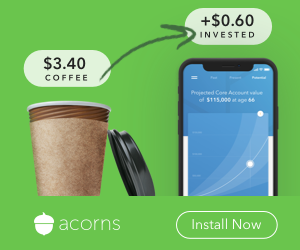 Acorns Spend – Acorns Debit Card
Acorns has a debit card facility where you can keep your money and use it for purchase.
The advantage to use Acorns debit card is, when you purchase anything, the money will be round-up on the spot. There will be no delay in round-ups like other bank's cards.
The Acorns checking account provides facilities such as zero overdraft charges, unlimited ATM usage and zero balance account.
Sign Up for Acorns and Start Earning Money from Today Plus Get $5 Bonus.
Acorns Later – Retirement Plan
If you want to invest something for your retirement to see a good money with good returns in the future, then Acorns has an option called Acorns later.
You can now create your own Individual Retire Account(IRA) or roll over your existing IRA or 401k to Acorns. They have their dedicated team to help you out.
It's a great investment plan especially for the young people who can invest little portion from their savings.
Direct Deposits
You can set an auto deduction for a specific amount from your account to invest regularly through Acorns.
Acorns will automatically deduct certain amount which will be agreed by you, and invest the deducted amount to your selected investment portfolio.
This is for the one who wants to invest little extra for extra income.
How to Withdrew Fund From Acorns App
You may be wanting to withdraw your earned money on Acorns or you may required some funds to pay your bills or expenses.
In Acorns, it's easy to withdraw your funds/profit and get it transferred to the checking bank account which is linked to Acorns.
The withdrawal process takes 5-7 working days. You can request for withdrawal at any time, there are no charges on withdrawing funds.
Acorns App Pricing
Acorns is completely free to join.
To get started, you will be asked to make an initial investment for your portfolio.
The Initial investment is $5 which will go directly to your investment portfolio. It also activates your account for other free benefits like trading, transfer etc.They has some low cost premium plans which is $1/month plan. This plan is free for college students.
There are other low price plans that cost $2/month and $3/month, but it comes with great feature which is value for money.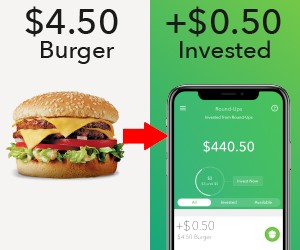 Let me explain you about plans in detail.
Acorns Core ($1/month plan)
Round-ups investment, Create your smart portfolio, Found money facility.
Acorns Core + Acorns Later ($2/month plan)
Acorns Core features + Individual Retirement Account(IRA), Recurring Contribution, automatic updates and IRA & 401k rollovers.
Sign Up for Acorns and Start Earning Money from Today Plus Get $5 Bonus.
Acorns Core + Acorns Later + Acorns Spend ($3/month plan)
Includes all Acorns core and Acorns later features + Real time Round-ups, custom spend strategies, automatic retirement savings, Direct deposits, mobile check deposits, Fee reimbursement ATMs, No charges on overdraft & no minumum balance on acorns debit card account.
I believe this is one of the cheapest plans for investment and other money related benefits.
There are companies in the investment industry who charge in percentage which eventually become unaffordable fee. So, it's a great price opportunity that Acorns is giving to the new investors.
"Note: $1/month plan is free for students."
My Thoughts On Acorns
Acorns is completely legit company.
It is best for students, new investors and the one who has small amount of money to invest.
As Acorns is managed by highly qualified financial experts, your spare money is in the good hand who can create a regular income on your investments.
You can buy a $1/month plan which is lot lesser than a cup of coffee at restaurant.
Acorns automatically round-ups to your spare change and get it invested to Index fund. You do not need to do anything.
If you have bigger plans for investment, then you can go for $2/month plan which is again a very cheap, but best services.
$1/month plan is free for college students. They can take a full advantage and plan their investment for financial freedom at early age.
Acorns is the platform who takes small amount of money each time you go to the shop and you don't even notice that your round-ups money have been taken by Acorns and invested in your portfolio.
The small amount of money one day can become a huge money in your investment portfolio.
Sign Up for Acorns and Start Earning Money from Today Plus Get $5 Bonus.
Related:
Is Harris Poll Online Survey Legit? Complete Review.
26 Best Passive Income Ideas to Make Money While You Sleep or on a Vacation.
21 Best Side Income Ideas You Can Start Right Now.
Founder of twomillionways.com
MBA – London
I am here to share my ideas and experience on how to make real money.